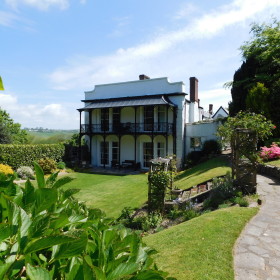 Wend your way through the undulating whims of the Whiddon Valley. Just outside of Barnstaple, the Devon lanes get tighter as you get closer. And there it is, almost hidden in the hills – Mount Sandford House, a ten-bed manor sleeping 31, nestled into the greenery and just a three-iron from the greens of Portmore Golf Club.
It fits right in. The ornate gardens, alive with features, weave a little magic around the house, the wrought-iron pillared portico adds colonial charm, and the lawn, set within 1.5 acres, looks ready for croquet and Pimm's. The elevated hot tub bubbles away, waiting for nine of you to get your cossies on and pop open the drinks.
Inside, it's a similar story of languorous luxury and indulgence. Light the logs in the sitting rooms beneath the chandeliers and chat away. This is how families used to be. For serious R and R, the games room comes with pool table and wall TV, for big games and big nights in.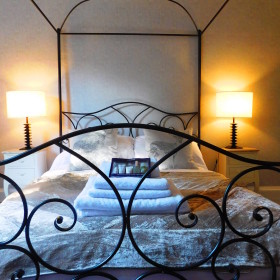 Eat for England in the monster dining room. Take a tipple on the terrace. Wind down in piping-hot water in the freestanding bath. Then try not to bicker over the bedrooms. Whichever you choose, you'll nod off in soft-cotton comfort to the gentle sound of the wind in the trees.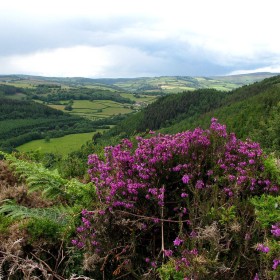 The rolling Devon hills might be garden enough, but there's a treat in store, because the grounds of Mount Sandford House wrap themselves around the whitewashed walls like dazzling jewels around the porcelain neck of a princess. Arranged in a series of external rooms, they've won an award or two in Barnstaple in Bloom.
On summer days, on any days in fact, this is the place to hang out. This is a horticultural haven of stone terraces, wonky steps, wild trellis and ornate planters that sprawls for and acre and a half. Behind the wrought-iron portico, the lawn arcs away towards the trampoline and the undulating hills beyond.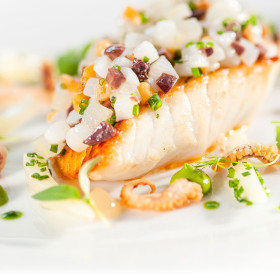 You can drink and dine out here, warmed by the southern sun or the chimnea, with the barbie in its own summer house. Even better, you can laze and lounge in the hot tub while you switch on some sounds, thanks to the built-in speakers. Live the high life in the Devon hills.
More info: